Low prices are no longer enough to attract customers, so it's imperative that retailers think outside the box. Business owners are diving deep into what their customers want, and they're using these insights to offer memorable customer experiences.
Creating a Seamless End-to-End Shopping Experience In Store
Oak Labs built upon existing RFID technology to build smart mirrors that track items from fitting room to register. Customers can find items and request another size using the fitting room's smart mirror, instead of awkwardly peeking their head outside to find a flustered sales rep. Moreover, retailers use this data to figure out where customers abandon items or how many sales are lost due to an item being out of stock.
Takeaway: Consider ways to use technology and data-driven insights to make the in-store shopping experience as easy as possible.
Small Business Solution: Look into endless aisle solutions and drop shipping. This either gives store associates access to a third-party supplier to take customer orders or allows customers to use an interactive digital kiosk in-store.
Offering Customers an Immersive, Delightful Experience
Most buyers shop for beauty products across multiple price points. Ulta Beauty, a popular chain of U.S. beauty stores, discovered this insight and used it to offer a fantastic customer experience, its Chief Merchandising and Marketing Officer David Kimbell revealed in an interview with Kellogg Insight. Since consumers choose where they splurge and save through experimentation, Ulta turned its physical locations into stores/spas with both high-end and budget-friendly products. Walk into an Ulta Beauty store and you'll find customers in the middle of blowouts, getting their brows done, or watching a live makeup demonstration.
Improving the customer experience boils down to a central goal: Making a customer's life as easy as possible.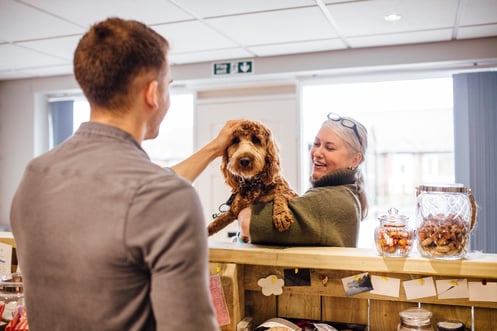 Source: Getty Images
Takeaway: Consider how your customers make decisions about your products. How can you make that decision-making process part of the in-store experience through additional services?
Small Business Solution: Try the store-within-a-store option. Design pop up stores within your store (or at external locations) to promote new or seasonable products. Build excitement around a uniquely designed pop-up experience that is a natural extension of the brand.
Optimizing the Logistics Side of the Customer Experience
Waitrose found an innovative way to tackle the logistics and time constraints of grocery shopping with Click & Collect lockers. Customers purchase groceries online, their order is kept in a temperature controlled locker at a transport stop like an Underground station, and they receive a PIN that allows them to pick up their order on the way home from work. If they want a refund, it's as simple as leaving the food in the locker.
Takeaway: Think about the logistical barriers that prevent your customers from shopping at your store. Are there enhanced delivery solutions you can use to make it easier for your products to get from shelf to shopper?
Small Business Solution: Look into tech-based logistics solutions. You're no longer limited to courier services for delivery within the city. Several startups have transformed the business of moving people and products. The food services world has already improved the customer experience with apps like Just Eat. Explore similar solutions geared towards retailers that allow you to offer your customers flexible delivery options.